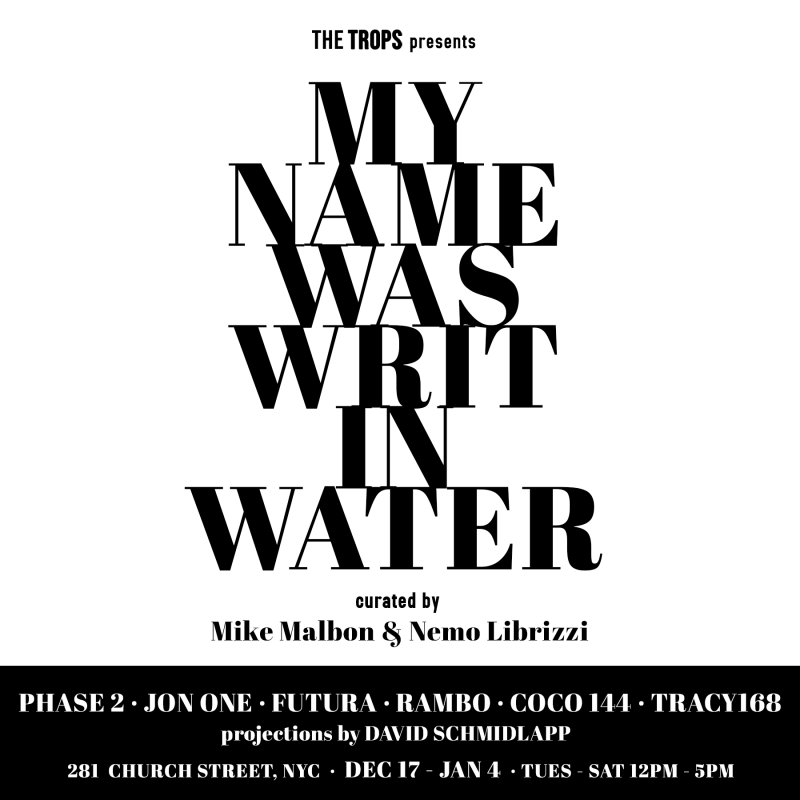 MY NAME WAS WRIT IN WATER
Curated by Mike Malbon & Nemo Librizzi
Featuring: Phase 2, Jon One, Futura, Rambo, Coco144, Tracy168
Projection Photography by David Schmidlapp
In the wake of the Civil Rights movement, a generation of children took to the streets, and signed their names to the trains and walls of a crumbling New York City infrastructure. If unique autographs- like Coco 144- were a significant form of self-expression in their unadorned form, this group practice would undergo in time a transformation, what Phase 2 described as an "evolution of style" towards a convoluted new application of the alphabet Tracy 168 called "wild style". This innovative language dismissed as "graffiti" by the media was illegible to the outsider, and a creative call-to-arms for the initiate, a battle of letters and words Rammellzee dubbed "Iconoclast Panzerism". Finally, writers would eschew the signature altogether, and pure abstractions would serve as the artist's calling card, beginning with Futura's seminal non-representational "break train". The subway era was brought to a dramatic finale with the spontaneous compositions of Jon One, who would go on painting in the same vein to artworld acclaim overseas. And in the short, rich career of Lance De Los Reyes, this story is recapitulated from his first humble Rambo tags, to an abstract body of paintings famed for sophisticated color instinct and poetic impact. In this historical context, The Trops presents My Name is Writ in Water, a survey of abstractions curated by Mike Malbon and Nemo Librizzi.
ARTIST BIOS
Phase 2
P.H.A.S.E. 2 (1955- 2019) is known as a "hip-hop" pioneer for his artwork, fashion, music, dance and his often imitated "funky nous deco" party flyers. His oeuvre set the groundwork for a growing inner-city culture and became a worldwide phenomenon. A first-generation 'writer' with roots in the NYC subway art movement, he was an innovator of what he called "wild lettering." In 1972 he pioneered the "softie" letter used in the earliest subway "pieces" and introduced arrows, curls, twists and other connections that became universal visual elements in the art form. In the same year he was one of the first 'writers' to paint on canvas, where he would continue setting the bar for contemporary urban art. A style master whose works first focused on language, the letter, communication and then beyond to "unspoken words" and to themes of self-discovery and inner strength. P.H.A.S.E. 2 strode to be an underground artist, building his own worldwide network to advance his artistic narrative.
Jon One (John Perello)
John Andrew Perello, also known as Jon One, is an American Graffiti artist. Originally hailing from Harlem, New York, Jon One is known for his abstract expressionism, influenced by the energy of the city he was born and raised in. He is also credited with founding the graffiti groups, 156 All Starz and Usines Ephémères, groups that would go on to heavily influence the graffiti scene of the 80's in both New York and Paris. In 2015, Jon One was awarded the Legion of Honor in France, which is given every year to a foreign national in recognition of actions benefiting the country of France. Jon One now resides in Paris, and is internationally acclaimed for his work.
Futura
Born Leonard McGurr, in New York, NY, artist Futura has made a name for himself for his abstract take on graffiti art, by blending imagery with text. Starting with subway graffiti, Futura transitioned to being exhibited at Fun Gallery in the 80's, alongside artists such as Jean-Michel Basquiat and Keith Haring. He has also gone on to collaborate with punk band, The Clash, and his work has been exhibited internationally in the Musée de Vire in France and Museo de Arte Moderna di Bologna in Italy. McGurr now lives in Brooklyn, NY and works as a graphic designer.
Rambo (Lance de los Reyes)
Lance De Los Reyes, commonly known as Rambo, was a New York-based graffiti artist best-known for his depictions of upside down crowns and abstract poetry painted across billboards and buildings in New York. Born in Texas, De Los Reyes went on to study at the San Francisco Art Institute, and went on to adapt an abstract and symbolic style of creating his work. Through his eclectic use of symbolism it was clear he "saw himself as a messenger trying to tell us something—to open our eyes." De Los Reyes died on November 6, 2021, at the age of 44.
COCO 144
Roberto Gualtieri, also known as COCO 144, was born in New York City. Getting his start writing his name on the subway lines of Upper Manhattan in the late 60's, COCO introduced the usage of stencil, and used it to paint his name on walls and subways surfaces, allowing him to become well known across New York City. In addition, he is one of the founders of the UGA (United Graffiti Artists), a graffiti writing collective which helped usher in a new era of graffiti art that would transition it into becoming a global cultural phenomenon. COCO's work went on to be featured in various exhibits, such as the Cartier Foundation's Born in the Streets exhibit in Paris, and The Art in the Streets exhibit at the MOCA in Los Angeles.


Tracy168
Tracy 168 was born in New York City, and is recognized as an entrepreneur of the early graffiti movement. He was one of the first to adopt "Wild Style" lettering, which is an intricate form of graffiti that incorporates overlapping lettering and shapes to create visual depth. In 2006, an art piece by Tracy utilizing a subway car door to feature his work, was featured in the Brooklyn Museum of Art during its exhibit "Graffiti." Tracy has maintained his street presence over the past few decades, and continues to create street murals in The Bronx and Brooklyn.


David Schmidlapp
David Schmidlapp has been a New York City photography-based artist for over five decades. Schmidlapp has projected in countless international venues, highlighting in 2018 with an analog projection and live performance at MoMA in their "New York Film: No Wave – Transgressive" series. He gained influence in the counterculture movement of the 1970's, Schmidlapp founded the IG Times in 1984, the first magazine dedicated to aerosol art and culture. Schmidlapp is now based in Hudson, New York, and has been featured in ACA Galleries and the MoMA.