Benjamin Frey, "59th Annual Coconut Grove Featured Artwork", 2023. Credit: Stefanie Yaegel.
For many of us, there is that one pro football game at our home stadium that we just can't miss, or maybe it's that one summer concert that you've been waiting for all winter long. For South Miami residents, their most anticipated event of the year is "one of the nation's premier arts festivals:" The Coconut Grove Arts Festival, where creativity and community combine during a three-day long event commemorating all forms of art. Known for showcasing local businesses, original artworks, musical performances, and culinary masterpieces, the Coconut Grove Arts Festival consistently draws a crowd of locals and visitors alike, promising an unforgettable weekend of celebrating the imagination of the human spirit.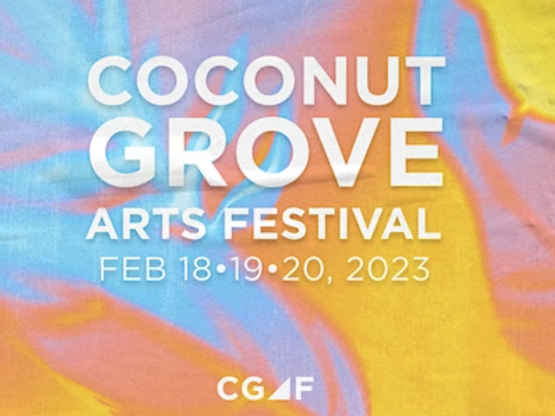 Held every year during Presidents' Day Weekend, the enchanting waterfront town of Coconut Grove is matched with a breathtaking view overlooking sailboats docked in Biscayne Bay; it is no surprise that the festival attracts nearly 120,000 attendees each year. With creators ranging in expertises from fine art to jewelry to cuisine, there is sure to be something for everyone. All ages are encouraged to attend this passion-filled weekend where music, art, food, and entertainment intertwine.
Starting the weekend off strong is the festival's signature opening day event hosted near a stunning rooftop pool with elegant greenery and intricate fountains. The annual Palette Breakfast is a luxurious celebration at the Mayfair House Hotel & Garden involving a sophisticated brunch buffet and the chance to meet participating artists. And with daily live culinary performances by celebrity chefs throughout the weekend, as well as over fifty restaurants and vendors just on-site alone, the Coconut Grove Arts Festival takes "food for the soul" to a whole new level ensuring every visitor's palette is satisfied.
Currently in its 59th year, the festival will be representing 285 participating artists with a broad range of mediums and styles. Attendees can browse a variety of categories including glass, clay, metal, photography, digital, sculpture, watercolor, wood, paint, pottery, and more. Yeah, that's a mouthful, but the epic lineup is no joke. With world-class artists from across every creative discipline, the festival continuously earns its undisputed reputation of prestige in the art world.
As attendees stroll down the palm tree decorated roads of McFarlane and Bayshore Drive, they are welcomed by rows of tents hosting unique art for sale, food trucks with all types of cuisines and cocktails, and merchandise repping the 2023 poster art by Benjamin Frey. Using a delightfully bright color palette and emphasized brush strokes to mimic movement, Frey's whimsical yet sentimental poster art encapsulates the history and spirit of Coconut Grove. The festival's poster pays tribute to Dinner Key Marina, which served as a significant naval aviation center in the 20th century.
The historic Marina, which attracted hundreds of thousands of visitors each year, housed new aircraft technology called the "Flying Clippers", which were used to help win WWII. The "Sky Boats" were larger than any other aircrafts of their time, and brought the country closer to the innovation in transportation we see today. The poster's dedication applauds Miami for being a remarkable leader in encouraging international connectivity. With the mesmerizing poster art on all of the merchandise, you may find yourself purchasing a comfy tee or helpful hat to beat the heat (or both in my case).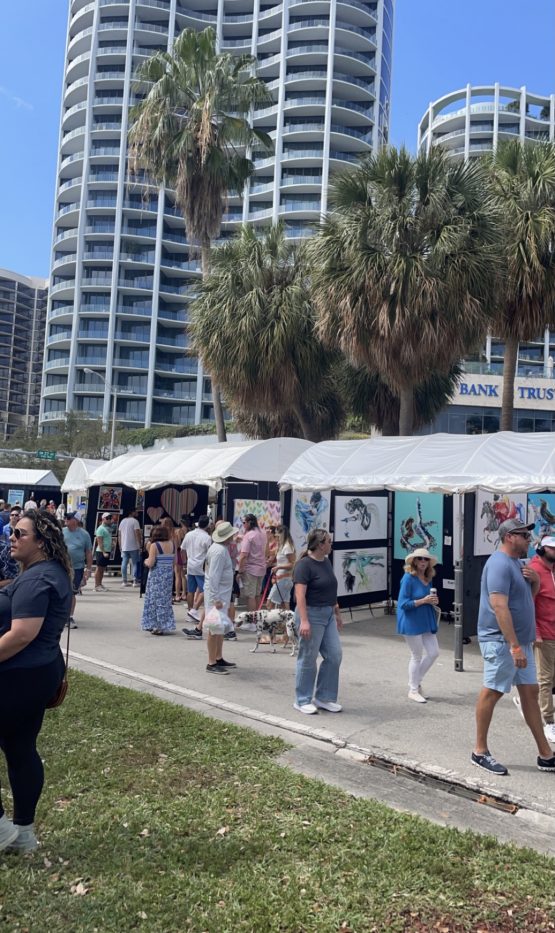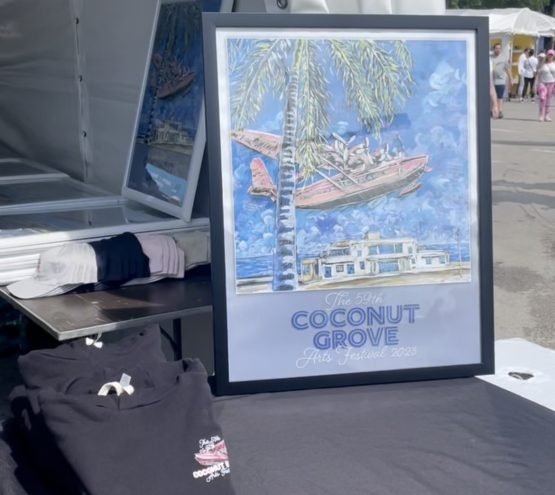 Best of all, the weekend-long event manages to bring together an entire community of people for one purpose: appreciating humanity as it is represented through art. For three full days, attendees share in their passions by exploring the rich culture of a diverse community in imaginative ways. And isn't it obvious? This festival isn't about the celebration of art, it is about the celebration of life. With each passing booth and shop, you can quite literally feel the magnetic energy of the festival nourishing your spirit.
The Arts Festival is a beacon of self-expression. A must-see event, the CGAF offers a captivating range of entertainment including masterfully curated artworks, live music, and dining experiences like no other. With awe-inspiring views of Biscayne Bay, and some of the finest art collections in the world, you don't want to miss this immersive celebration of individuality and culture. And don't worry, the festival doesn't just end after the weekend's over. Instead, its unforgettable message carries with us long after that, inspiring us to indulge in the creativity and beauty of a more harmonious world. The Coconut Grove Arts Festival improves its town and its people every single year, encouraging community and explorative growth. And who knows, it may just become your new favorite event of the year as it is now mine.